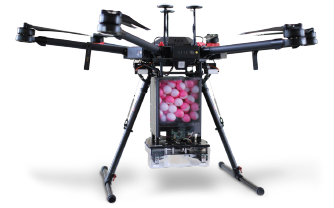 How It Works
IGNIS is a complete system that embeds to drones. It carries a payload of ping-pong size chemical spheres. Upon command, the spheres are injected with glycol, starting a chemical reaction that will generate flames after being dropped precisely where you want them.
IGNIS comes integrated with a drone, or it can be installed on a variety of drones from leading manufacturers.
Fly and control IGNIS with our Android app.
Ignite 50-75 acres with a single payload.
Affordably ignite several hundred acres in a single day.
Save on manpower and risk and versus more costly solutions.
Training and full service contracts available.
Learn More
In partnership with the Southwest Fire Science Consortium, we present a webinar focused on the use of drones in fire management. Tune in at the 31-minute mark to learn more about IGNIS from our chief engineer, Jim Higgins.
Safe & Affordable
Sending IGNIS in is safer. IGNIS mounts to drones, carrying ignitable payloads. No need to expose personnel to dangerous situations.