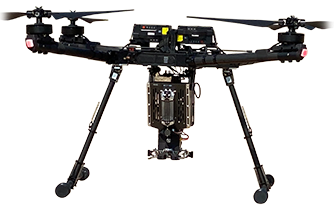 Firefighting is a dangerous job in any circumstance, but especially in rough terrain. That's why Drone Amplified leverages the latest technology to increase safety and effectiveness in firefighting. Our technology is also being hailed for driving efficiency in controlled burns in fields and forests.
HOW IT WORKS
IGNIS, carried by American made drones, is equipped with a hopper that carries a payload of ping-pong-ball-sized chemical spheres. The drones can be integrated with infrared and other types of cameras. The spheres are pre-loaded with potassium permanganate and later injected with antifreeze prior to being released.
The spheres ignite 30-60 seconds after being dropped, setting off backburns to create defensive lines for firefighters in rugged and sometimes unreachable terrain. IGNIS is easily controlled and automated with a custom app and allows drone operators to release the spheres with a high degree of accuracy in terrain that is often difficult to navigate with helicopters or airplanes.
The drone's dynamic ability to fly in densely smoky, high-altitude areas makes it extremely useful.
In 2022, Drone Amplified announced the launch of IGNIS for the Freefly Systems ALTA X, the newest development in unmanned aerial ignition.
Drone Amplified has modified the ALTA X and IGNIS to integrate thermal and visual cameras, a customized ground station based on the Herelink Blue, and ADS-B in for situational awareness of other nearby aircraft.
Combined with our App that was designed by firefighters, the IGNIS ALTA X package comes as a ready to go field kit for the most demanding firefighting missions. IGNIS can lay down miles of fire line in only a few minutes of flight. Durability and ruggedness drove the design of IGNIS ALTA X and required aggressive testing to assure dependability in high temperature, dusty and ashy environments and extreme conditions of the wildland fire environment.
Feedback from UAS fire operators helped hone the system into the powerful tool that has quickly gained a reputation for high performance and dependability in the field. IGNIS ALTA X by Drone Amplified is a significant, industry-changing leap forward in safe, innovative, fire management technology. Contact us now to talk about how IGNIS can work for you.
IGNIS comes integrated with a drone, or it can be installed on a variety of drones from leading manufacturers.
Fly and control IGNIS with our Android app.
Ignite 100s of acres with a single payload.
Affordably ignite thousands of acres in a single day.
Save on manpower and risk versus more costly solutions.
Training and full service contracts available.