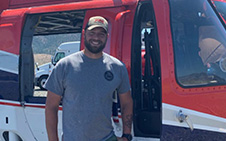 Drone Amplified is growing on the West Coast and we're delighted to welcome Simon Weibel to the team as our West Coast Representative, Operations and Sales. A native of Rogue Valley, Oregon, Simon has been firefighting for his entire career, starting out with Gray Forestry as a Type 21A and then moving to the Eldorado Hotshot crew.
Most recently he's been working with the Oregon Department of Forestry as a Forest Officer where he worked on the department's development of their drone program.
"I'm really pumped to be working with Drone Amplified," he said. "Looking back on my firefighting career, in every area I could see this exciting technology having impact in a positive way. IGNIS 2 is a new technology that limits the exposure of firefighters and helicopter crews. That means it is not only an effective tool, but it can potentially save lives."
Simon holds a degree in Economics from Southern Oregon University and is looking forward to working with firefighters to demonstrate IGNIS 2. "As a firefighter, I can see the potential of IGNIS 2 and how it breaks new ground in the firefighting space. It's a tool I wish I'd had when I was boots on the ground," he said.
"The best way for you to fully experience all IGNIS 2 can do is to see it for yourself by contacting me for a demo."
Email simon@droneamplified.com | Call 541-500-7128